Scottish SPCA appeal over 8ft dead snake found in Airdrie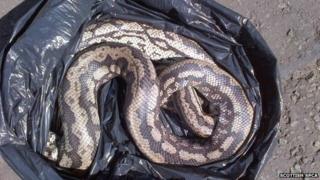 An animal charity has appealed for help in tracing the owner of an 8ft snake that was found dead in Lanarkshire.
The carpet python was discovered in a rubbish bag beside a bin in Calderbank Road, near its junction with Brownsburn Road, in Airdrie, on Wednesday.
The Scottish SPCA said it was unknown whether the snake was still alive when it was put in the bag.
The charity is awaiting the results of a post mortem examination to find out how the reptile died.
The Scottish SPCA is appealing for information about the reptile, which was dark brown and beige in colour and had no obvious signs of injury.
Chief Superintendent Mike Flynn said: "If anyone recognises this snake and knows who may have owned it we would urge them to contact us as soon as possible."