Glasgow 2014: Threat of transport strikes in Glasgow before Games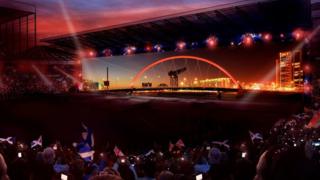 Staff at two of Glasgow's key transport operators are to be balloted on industrial action ahead of the Commonwealth Games.
Engineers at First Bus and Subway staff will vote before the end of June.
Glasgow 2014 has been billed as a "public transport games", with up to 500,000 extra journeys expected on the busiest days.
About 150 bus engineers at First Group Glasgow are being balloted after they rejected a 0.5% pay offer.
Unite union members at Strathclyde Partnership Transport's Subway will vote over claims they will receive no extra payment for the increased work and demands during the Games.
An SPT spokeswoman said that claim was simply not true and they were disappointed the union was threatening to jeopardise transport during the Games.
The spokeswoman added: "SPT has made it clear that any Subway staff requested to work additional hours will be paid in line with their current terms and conditions.
"We are also not sure why certain staff are being balloted for possible industrial action as they have not been requested to work additional hours during the Games.
'Welcoming reputation'
"However, it is incredibly disappointing that Unite is threatening to jeopardise the transport arrangements during the largest multi-sport event Scotland has ever hosted.
"We would urge Unite to consider the impact on customers and potential damage to Glasgow's welcoming reputation and call off the ballot."
First Group Glasgow said it was "extremely surprised and disappointed" that Unite has decided to ballot its engineering members for industrial action.
Spokeswoman Fiona Kerr said: "We have serious concerns that union officials have failed to properly consult with their members.
"Nor have they sought to bring in ACAS to help us reach agreement. Officially balloting members at this stage is premature at best. "
She added: "We are operating in a very challenging market in Glasgow, put under extra pressure by cuts in funding and increasing costs.
"In the last two years we have taken the hard decisions to close a depot and to implement a two-year wage freeze for many of our drivers.
"We are simply not prepared to fund a pay award by asking customers to pay higher fares."
The strikes threat comes as the RMT announced its members at ScotRail will receive additional payments of up to £275.
Intense demand
RMT acting general secretary Mick Cash said: "We are pleased to be able to confirm that we have secured an agreement which will properly reward all staff involved in delivering services throughout the Games.
"It is only right that those carrying the pressure of operating services against a backdrop of intense demand are recognised.
"The deal we have now signed off does just that.
"We also have an agreement in place that no staff will be dismissed from their posts throughout the duration of the Games."
A ScotRail spokesman said: "We welcome the agreement with the RMT and look forward to providing the most extensive train timetable that Scotland has ever seen for the Commonwealth Games."
The train drivers union Aslef has yet to agree terms.
It is understood there will be a meeting next week.