Glasgow Council gives £800,000 for Citizens Theatre revamp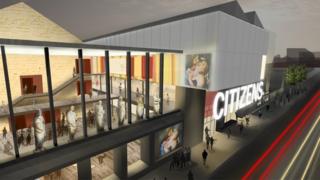 One of Scotland's oldest theatres has been awarded £800,000 towards a planned £16m revamp.
Glasgow City Council has approved the cash for the Citizens Theatre, in the Gorbals area, with up to £4m to follow.
The funding pledge came days after The Heritage Lottery Fund (HLF) earmarked £4.9m for the project.
The redevelopment, due to get underway in 2016, includes upgrading the Victorian auditorium, installing a new foyer and transforming the exterior.
The "Citz" opened in 1878 as a variety theatre in Glasgow's Gorbals area.
Over the years it has helped launch the careers of actors such as Stanley Baxter, Bill Paterson and Gary Oldman.
Rupert Everett, Helen Baxendale, Alan Rickman and David Hayman are also among the stars who have trodden the boards of the theatre which has been home to the Citizens Theatre Company since 1945.