Glasgow School of Art rewards fire service for blaze effort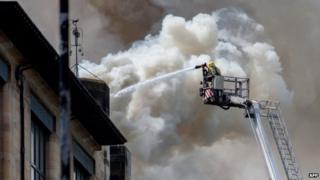 Firefighters have been honoured by Glasgow School of Art (GSA) after they saved its iconic Mackintosh building amid a major blaze last month.
GSA awarded the Scottish Fire and Rescue Service a Newbery Medal - the school's highest accolade - during the Fine Art graduation ceremony on Friday.
Fire crews saved 90% of the Mackintosh building and 70% of its contents after the blaze broke out on 23 May.
The estimated cost of restoring the building is between £20m and £35m.
It is believed that the work will last up to four years.
Hollywood support
GSA has already launched a Mackintosh Appeal to raise up to £20m towards the final cost of the restoration.
Hollywood star Brad Pitt and Dr Who actor Peter Capaldi, who graduated from GSA in 1980, have agreed to be trustees of the appeal.
Renowned Scottish painter John Lowrie Morrison has also pledged a percentage of the profits from forthcoming exhibitions to the fund.
In the aftermath of the fire, GSA set up a Phoenix Bursary fund, with a £750,000 contribution from the Scottish government, to help students replace work which had been lost in the fire.
The UK and Scottish governments have also pledged to help with the cost of restoring the Mackintosh building.