Public artwork homage to Glasgow's Barrowlands venue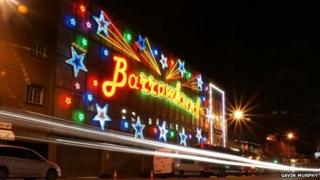 Glasgow's famous Barrowland venue is to be celebrated in a new public artwork referencing more than 2,000 bands who have played there since 1983.
The Album Pathway will see granite letters set into concrete along a 100m length to represent record spines from a vinyl collection on a shelf.
The work, by artist and former Turner Prize nominee Jim Lambie, will sit in a temporary park at Glasgow Cross.
The plan is to relocate the work once the gap site is built on.
Lambie has already used the Barrowland's iconic star-clad façade as the inspiration for branding he designed for Culture 2014 and Festival 2014 - programmes associated with the Commonwealth Games.
'Iconic' venue
His new work will sit in the temporary park being built near the venue on a site bounded by Gallowgate, London Road and Moir Street.
Lambie said he was "delighted" to be asked to create the work.
"In homage to the Barrowland Ballroom and local market being such an iconic part of Glasgow, it makes perfect sense for the area and the local community for a pathway to be introduced which would wind its way through the new, temporary parkland," he said.
"The pathway resembles the side view of a vinyl record collection, placed on a shelf at home and is similar to the rows of vinyl records I would scour on my visits to the Barra's market.
"It is an image familiar to most people, and an image which connects both conceptually and emotionally with the Barrowland Ballroom, the Barra's market and most importantly the local community and the people of Glasgow."
The Modern Institute/Toby Webster Ltd worked with Lambie on the project, which may be opened next month.
The landscape for the park was designed by Greg White from LOCI Design and is being constructed by Glasgow City Council Landscape and Environmental Services.