Serial rapist John Walker 'may never be released'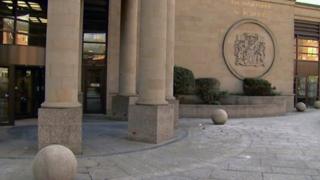 A man who tortured and raped four women over a 20-year period has been told he may never be released from prison.
John Walker, 49, admitted five rapes and four assaults which took place between 1988 and 2009 at addresses in Glasgow and Dunbartonshire.
At the High Court in Glasgow he was given a lifelong restriction order and told he must serve at least 10 years.
The judge told Walker: "You are classed as a high risk of re-offending and you may never be released."
Before sentencing, temporary judge Bill Dunlop QC told Walker he had carried out "a horrific catalogue of domestic violence".
'Depressing cases'
Jailing him on Thursday, the judge said: "There have been a series of depressing cases lately where men have used, abused and brutalised women. You did this for the best part of 20 years."
The court previously heard that Walker's first victim, who is now 43, was subjected to his violent temper for five years until 1993.
The assaults, some of which took place at properties in Glasgow and Clydebank, saw the woman being kicked and stamped on.
She was also repeatedly smacked with a wooden pole while pregnant, and on another occasion Walker tried to strangle her.
The court heard how Walker raped the woman shortly after she had been released from a stay in hospital.
The second woman was battered repeatedly after meeting Walker in the late 1990s.
Open fire
The victim, who is now 31, was pushed into an open coal fire while Walker brandished weapons at her.
Another woman, now 43, was raped, assaulted and verbally abused on a regular basis after meeting Walker in 2000.
Walker's fourth victim, now 46, suffered a similar fate for almost a year in 2003.
In 2004, Walker then repeatedly raped a 16-year-old girl, whom he was not in a relationship with.
Prosecutor Kath Harper told the court: "He began to sexually abuse her at her home explaining that he knew her deceased father and that he had promised him he would look after her."
Ms Harper said Walker had sex with the girl daily for a period of up to seven weeks, which the teenager found "unpleasant".
Rape ordeal
Walker's final victim was a woman he dated for seven months in 2009, when she was aged 21.
The pair lived with each other at a flat in the north of Glasgow until the woman decided to move out.
When she later returned to collect her belongings, Walker raped and assaulted her during a four-day ordeal.
Walker was never reported until a daughter of his first victim decided to go to police last year.
An investigation was then carried out to trace his other partners, and the women gave statements to officers.
Walker was finally detained in March last year.
It emerged in court that he was previously jailed for assault in 2000.
And in 2006, he was placed on probation after being convicted of domestic assault at Glasgow Sheriff Court.
"They are so grave that I must consider an order for lifelong restriction," judge Dunlop said.