Hydro beefburgers source of E.coli outbreak in January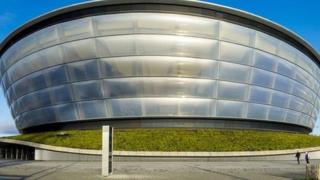 The source of a January outbreak of the E.coli O157 bug that struck 22 people has been confirmed as beefburgers sold at the SSE Hydro in Glasgow.
A report from NHS Greater Glasgow and Clyde's public health protection unit said 19 of the cases personally attended and ate burgers at the venue.
The remaining three were household contacts of those primary cases.
The report's co-author, Dr Catriona Milosevic, said the burger outlet had made necessary improvements.
"During our investigations staff at the company which operates the burger outlet at SSE Hydro were helpful and co-operated fully," said the NHS Greater Glasgow and Clyde consultant.
"We are fully satisfied that they have made the required improvements to their processes.
Fully recovered
"The outbreak provides a reminder of the potential for E.coli O157 contamination of beef products and of the need for adequate cooking and cross-contamination measures in the preparation of these products - especially minced meat products such as burgers, which should be thoroughly cooked."
Three of the cases required hospital treatment, but all have now fully recovered, said the report.
The vast majority of those affected were not severely unwell, it stressed.
"Whilst it is not conclusive, there is strong epidemiological evidence pointing to the exposure being the consumption of beef burgers purchased at the SSE Hydro between 17 and 19 January 2014," added Dr Milosevic.
"The laboratory analysis carried out at the time is in keeping with a single source of exposure and we also know that there were no other notified cases of the same type in Scotland at the same time as this outbreak."
The outbreak was managed in partnership with other health boards, Health Protection Scotland, the Food Standards Agency and Environmental Health at Glasgow City Council and North Lanarkshire Council.