Car park restrictions for repairs to Gourock sea wall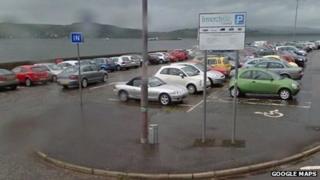 Restrictions are to be brought in at a car park in Gourock after inspectors found "significant corrosion" in a supporting sea wall.
Inverclyde Council said 30 spaces would be fenced off to relieve pressure on the wall at Kempock Street while maintenance was carried out.
Regular examinations will continue to examine the condition of the wall.
The council and urban regeneration firm Riverside Inverclyde are to look at options for longer term remedial work.
Regeneration vice-convener, Councillor Jim Clocherty, said: "The council's inspection regime has revealed some incidences of corrosion which require action.
"Car parking spaces will be fenced off to alleviate pressure on the wall although the current regeneration work means that an additional 47 temporary car parking spaces nearby will help alleviate the loss."