Car stolen in Bearsden with family's dog 'Murphy' inside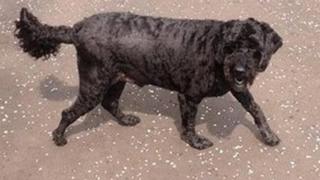 A family from East Dunbartonshire has been left "extremely upset" after their car was stolen with their dog inside.
The keys to the car were stolen from a locker in the Virgin Active health club on Strathblane Road, Bearsden, between 16:50 and 17:10 on Tuesday.
The dark grey Volkswagen Scirroco car, registration number SL14 YPR, was then driven off with the family pet, a black Cockapoo named Murphy, still inside.
Police believe two men were involved and have appealed for information.
The first suspect is described as aged between 30 and 39 years old, of slim build, with dark brown hair and a sallow complexion.
'Beloved pet'
At the time of the theft, he is believed to have been wearing a blue t-shirt and shorts.
The second suspect is described as having a slim build and sallow complexion. At the time of the theft, he was wearing a purple and white striped polo top and red shorts.
The dog, Murphy, had a red collar. It is unclear whether he was let out of the car or went with the thief when the car was stolen.
Murphy's owner said: "My family and I are extremely upset at the theft of our beloved family pet and would appeal for anyone with information on his whereabouts to please come forward.
"I would like to thank everyone for their support in helping to find Murphy."