Sunshine Games prepare to sparkle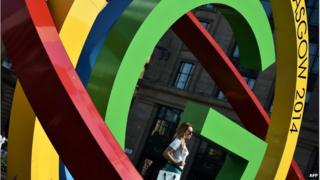 Even the weather seems to have taken a shine to Glasgow.
The sun bounces off the Clyde reflecting the city's glass and steel architecture, a reminder of past and present.
On the corners of spruced up streets, armies of Clydesiders are bursting with enthusiasm, proudly showing off their red and grey uniforms.
It is only day 0, as the official jargon goes, so how will they sustain this wave of happiness over the next 11 days?
It hasn't all been a smooth ride for organisers: will we ever find out which comedy genius suggested blowing up the Red Road Flats?
The ticket sale fiasco rightly left people raging about their experiences, and the committee will be hugely relieved norovirus chose to strike before most of the athletes had arrived.
But as we head to the Opening Ceremony this evening, there is an air of confidence and optimism coming from those in charge.
The content has largely been kept a secret.
We know that Rod Stewart and Susan Boyle will join other mystery celebrities, we know there will be children and dancing galore, and the Scottish athletes will take centre stage, complete with "love them or hate them" parade outfits.
There are quirky rumours of dancing Tunnocks tea-cakes, a spectacle of graphics and there is a promise of a show that is "very Glasgow".
Let's hope it is the party we want the world to see.