One 'obese' daily service at South Lanarkshire Crematorium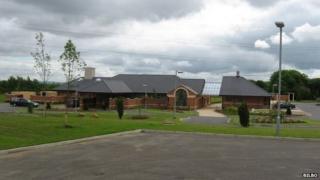 Funeral directors have been told that South Lanarkshire Crematorium can only accept one obese dead person each day.
The facility in High Blantyre can only usually take one coffin, weighing 21 stone (140kg) or more, on any day.
South Lanarkshire Council said the policy was well established for health and safety reasons.
The reason is that large coffins have to be cremated at lower temperatures. Such services are held first each day to avoid the cremator becoming too hot.
Stephen Kelly, head of facilities at South Lanarkshire Council's waste and ground services said: "We are one of the few councils in the country with capacity for larger coffins up to the maximum weight of 285kg/45 stones."
'Dignified service'
He added: "There has been no change in our policy, however, we have been reminding funeral directors that when receiving heavy coffins we must follow certain procedures to ensure a dignified service is given to both the deceased and their family.
"As with all services at the crematorium, we will work with funeral directors to facilitate any request from bereaved families."
Mr Kelly said that "in certain circumstances" South Lanarkshire Crematorium may be able to handle two funerals for larger coffins on the same day.
He added: "However, we require to follow government regulations such as The Health & Safety at Work etc Act 1974 and the Provision and Use of Work Equipment Regulations 1998 in respect of the use of all work equipment.
"There are also certain Scottish Environment Protection Agency regulations and manufacturer's instructions that we must follow as the cremation process requires to be started from a lower than normal cremation temperature."