Glasgow Argyll Arcade jewel raid gang getaway plan revealed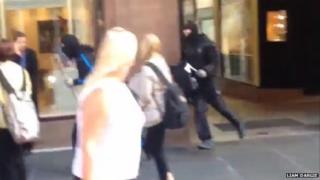 Police have revealed more details of how an armed gang made off with £200,000 of watches after targeting jewellers in Glasgow's Argyll Arcade.
Four masked men carrying axes raided the arcade at 12:45 on 24 September.
Police said their getaway car, a white Volkswagen Golf, found in the Townhead area, had been stolen in Haddington.
The gang then made off in a Vauxhall Combo van on the eastbound M8. Details emerged as police questioned motorists and pedestrians in the Townhead area.
Detectives and uniformed officers staged the operation in Castle Street, opposite the city's Royal Infirmary, where the Volkswagen Golf was abandoned last week.
Inquiries progressing
Det Insp Alasdair Barlow appealed to the public for help in tracing the four men who carried out the raid.
"Our inquiries are progressing well and we've had a very good response from the public, including vital mobile phone footage and excellent CCTV from businesses and public space," he said.
"We now know that the men involved had access to a white Volkswagen Golf hatchback which they used to get away from the scene of the crime, and witness reports say that they drove at excessive speed from Queen Street, up Ingram Street and up to High Street, often being driven on the wrong side of the road.
"However, we also know that they had access to a Vauxhall Combo van. It is known at this time that they abandoned the Volkswagen in Castle Street shortly after the robbery and then left in the Vauxhall van, which was last seen driving onto the M8 towards Edinburgh."
Det Insp Barlow said officers had "identified the Volkswagen Golf as one which had previously been stolen from an address in Haddington in the early hours of the 24th September".
He added: "I would like to speak to anyone in the Haddington area who may have seen a white Volkswagen Golf being driven in the area prior to the robbery.
"Similarly, I'd like to speak to anyone who may have seen a Vauxhall Combo or the Volkswagen being driven in the Glasgow area just prior to the robbery and just after."
Robbery filmed
The four men entered the Argyll Arcade, from Argyle Street, at about 12:45 on 24 September.
They failed in bids to rob the Mappin and Webb, Laing and Lewis Grant stores, by using axes to smash windows but succeeded in stealing watches from the Rox shop.
Stunned shoppers captured images of the robbery on mobile phones as the men ran through the arcade.
They exited on Buchanan Street and fled down an adjacent lane before making off in the Volkswagen car.
A security guard sustained a minor leg injury during the robbery after being pushed over. No-one else was hurt.
Police described the four suspects as 5ft 8in tall and of slim build.