Updated design images of £104m Queen Street station revamp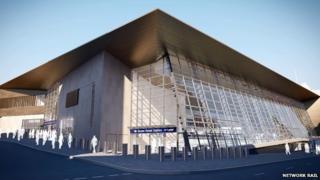 The public is being asked to comment on updated designs for the £104m revamp of Glasgow's Queen Street Station.
Network Rail has unveiled a new "flythrough video" as part of its second phase of public consultation.
Queen Street handles 20 million passengers a year. Network Rail said the revamp was needed to meet predicted growth to 28 million passengers by 2030 and to accommodate longer trains.
Construction work is due to begin in 2015 and finish in 2019.
There will be a number of major new developments at the station and surrounding areas, including an extension of the east side of the building into the Buchanan Galleries shopping centre.
'Transport hub'
The current entrance will also be replaced with a 500 square metre glass facade.
The project is part of the Scottish government's £650m Edinburgh Glasgow Improvement Programme (EGIP), which aims to reduce journey times and increase capacity on Scotland's main rail routes.
Transport Minister Keith Brown said: "Queen Street is one of Scotland's most important stations. This consultation is informing plans which will transform the station into a 21st century transport hub.
"It will be an inviting and enjoyable place for people to begin or end their journey on some of Scotland's busiest rail routes, including the improved Glasgow-Edinburgh via Falkirk line through the EGIP scheme, which will result in 30% more seats and around 20% faster journey times on our flagship route.
The second part of the public consultation will run from 1 October until 22 December.
Following the first phase, a number of changes were made to the original proposals.
Network Rail said the main access ramp had been moved inside the station, the George Square entrance stairs had been widened, disabled access was being improved and additional cycle stands have been added.
David Dickson, Network Rail route managing director for Scotland, added: "The proposals unveiled for the second phase of consultation demonstrate that we have listened to, and acted on, what people are telling us they want to see at the station.
"Listening to what passengers, and those who live near the station, think of this exciting new vision for the future Queen Street, and enabling them to contribute to creating that vision, has enriched the proposals.
"The feedback we receive in this second phase will be just as important in shaping a station which better serves passengers, serves Glasgow and creates a landmark development in this iconic location."