Emergency work on Grade A-listed Rothesay Pavilion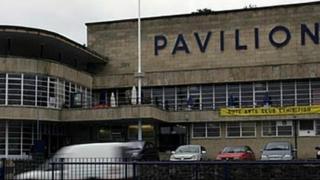 One of Scotland's most significant surviving Art Deco buildings is to undergo emergency repair work ahead of a planned £8m renovation.
Argyll and Bute Council is to spend £335,000 stabilising parts of the Grade-A listed Rothesay Pavilion.
Some of the building was fenced off after weathering loosened stone facing.
Repair work is due to be completed by next year. The 18-month renovation project will start in 2016, with completion scheduled for mid-2017.
The building, on the Isle of Bute, dates back to the 1930s.
It sits at the end of the town's Victorian Esplanade, with views of Rothesay Bay, and across to the Cowal Peninsula and the Renfrewshire and Ayrshire coasts.
'Significant intervention'
It was built in the era of the "Big Band Sound", and was designed to host dancing and conference events as well as flower shows, weddings and sports activities.
Argyll and Bute Council hopes the £8m revamp will transform it into a hub for sports, tourism and culture.
Recent survey work revealed some sections of the building were in an advanced state of disrepair.
The authority said this had persuaded it to make the "significant intervention" of paying for emergency repairs from its general reserve fund.