Glasgow City Council unveils Nelson Mandela bust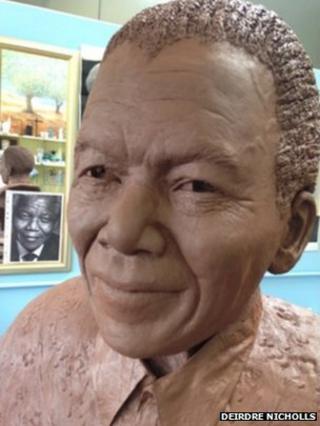 A bust of Nelson Mandela has been unveiled in Glasgow to mark the city's longstanding connection with the late anti-apartheid icon.
Lord Provost Sadie Docherty revealed the image of the former South African President at the City Chambers.
The date coincides with Mandela's visit in 1993 to offer thanks for the Freedom of the City that Glasgow conferred in 1981 while he was a political prisoner.
Sculptor Deirdre Nicholls won the £20,000 commission to create the bust.
She attended the unveiling along with other invited guests, including the South African High Commissioner, His Excellency Mr Obed Mlaba and Brian Filling, Honorary Consul to South Africa.
The bust, which is slightly scaled up to reflect the global stature of Mandela, will serve as a permanent reminder of his iconic status as a freedom fighter and Glasgow's role in opposing apartheid.
Sculptor Ms Nicholls said: "I've tried to capture many moods - his states-man-like demeanour, his humour, solemnity and gentleness.
"It's been a huge honour and responsibility to recreate a global icon. I hope people enjoy it."
The 30-kilo bust will be displayed permanently in the foyer of the City Chambers, which is the headquarters of Glasgow City Council.
Lord Provost Docherty said: "Nelson Mandela and this city's history are forever intertwined in the struggle to end apartheid.
"I know that Mr Mandela felt that Glasgow's granting him the Freedom of the City brought global attention to his imprisonment and his cause. He firmly believed our city's bold move helped secure his release.
"This stunning sculpture will serve as a lasting legacy of the enduring bonds forged between the former South African President, Glasgow and the South African anti-apartheid movement."
Mr Mandela died on 5 December 2013, aged 95.
He led South Africa's transition from white-minority rule in the 1990s, after 27 years in prison for his anti-apartheid political activities.