John McPherson pleads guilty to culpable homicide of Ryan McNeill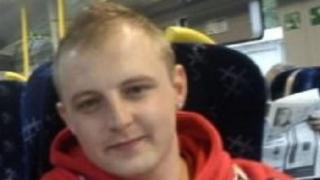 A man has pled guilty to culpable homicide after stabbing a visitor to his family home in Glasgow - despite being banned from the property.
The High Court in Glasgow heard the incident took place after John McPherson, 28, flouted a court ban to stay away from the property in Easterhouse.
He stabbed Ryan McNeill, 29, to death in March this year.
McPherson had faced a murder allegation when he appeared in court.
But he instead pled guilty to culpable homicide, after prosecutors accepted he was suffering from mental health issues at the time of the killing.
McPherson had been previously banned by a sheriff from going to the family home in the city's Conisborough Road after an alleged attack on his father in July last year.
Stabbed through heart
The court heard that on 15 March McPherson assaulted a woman at the property before Mr McNeill tried to step in.
McPherson then approached Mr McNeill from behind and repeatedly stabbed him with a knife.
McPherson - who already had a lengthy criminal record - then left the home and slashed all four tyres of Mr McNeill's Volkswagen.
As the killer then fled to a friend's house, the victim collapsed after being knifed through the heart.
McPherson's guilty plea to culpable homicide was accepted on the grounds of diminished responsibility.
He is currently in the State Hospital at Carstairs.
The case was adjourned until December at the High Court in Edinburgh.
Judge Lord Bannatyne imposed an interim compulsion order for him to remain at the state hospital in the meantime.