Glasgow's Burrell Collection 'treasures' taken to London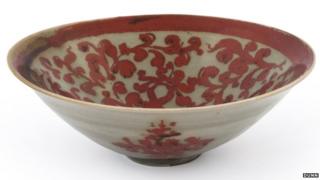 A "selection of treasures" from Glasgow's Burrell Collection is to form an exhibition in London ahead of an international tour.
The items will go on display at Bonhams on New Bond Street between 15 December and 9 January.
It is the first time the collection has brought together a selection of objects in an exhibition outside Scotland.
Many of the items involved are likely to form part of the forthcoming international tour.
The exhibition will feature more than 45 "star objects" selected from the collection.
Sir Angus Grossart, who chairs Burrell Renaissance and is a board member of Glasgow Life, which manages the collection, said: "The time has come to liberate the full potential of Sir William Burrell's extraordinary collection and see it achieve its rightful place on the international stage.
"This exhibition is a prelude to an international tour, which will, for the first time, see objects loaned to major institutions around the world."
He said Bonhams was a "fitting partner" for the exhibition.
Colin Sheaf, chairman of Bonhams' UK board, said: "Bonhams is thrilled to be exhibiting a wide range of international masterworks from this superb Glasgow collection, which is the product of one connoisseur's personal vision and taste.
"The display will also highlight the museum-standard technology of Bonhams' state-of-the-art New Bond Street saleroom."
Opened in 1983, the building that houses the Burrell Collection requires a full refurbishment and redisplay.
Burrell Renaissance, alongside Glasgow Life, is advising on the strategic direction of the refurbishment project and providing advice on key aspects of the redisplay, as well as overseeing a programme of international touring while the building is closed for refurbishment.
Burrell Renaissance will also develop and support the fundraising for the project.
Councillor Archie Graham, who chairs Glasgow Life, said: "The city is currently considering ambitious plans for a full refurbishment and redisplay of the museum housing Sir William's extraordinary gift.
"While that work is ongoing, we have a once-in-a-generation opportunity to share these great treasures with the world.
"It is absolutely fitting that the first stop is Bonhams, given that Sir William spent so much of his early years as a collector in some of the world's finest auction houses."