Police officer 'right' to use Taser on violent drunk in Irvine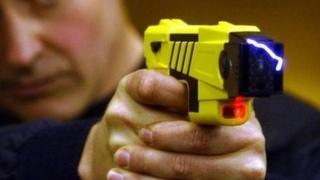 A police officer was justified in using a Taser against a violent and drunk man in North Ayrshire, an independent investigation has ruled.
The man threatened police and members of the public with a knife and other weapons before the Taser was used.
He was later charged with a number of public order offences following the incident in Irvine on 9 August.
The Police Investigations & Review Commissioner found the use of the Taser was "proportionate and necessary".
Commissioner Kate Frame said: "It allowed the police to control the man, effectively de-escalate the incident and ensure that he did not injure himself or members of the public at the scene."