Plea after dog with Spanish microchip found in Airdrie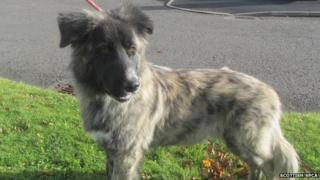 An animal charity is attempting to find the owner of a dog with a Spanish microchip that was found straying in North Lanarkshire.
The Scottish SPCA said the female, thought to be a two to three-year-old Estrela mountain dog, was discovered in Deedes Street in Airdrie on 17 October.
The animal is being cared for at the charity's rescue centre in Hamilton, where staff have named her Carmen.
If no-one comes forward the Scottish SPCA will attempt to re-home the dog.
Centre manager Peter Fleming said: "Unfortunately Carmen's microchip hasn't been registered in this country and we've been unable to find any contact details for her owner.
"It may be that someone brought Carmen to Scotland when they moved here from Spain and she has gone missing recently.
"We also can't rule out the possibility she has come over on holiday with her owner and been left behind.
"Hopefully someone will recognise Carmen as we'd really like to return this lovely girl home, wherever that may be. If no-one comes forward we'll find her a loving new owner."
Anyone who recognises Carmen is asked to contact the Scottish SPCA.