McGill's takes over Henderson Travel bus contracts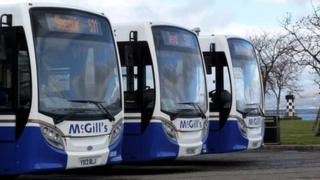 A bus company run by two Rangers directors said it has safeguarded jobs at another bus firm which is understood to have ceased trading.
McGill's Buses said it has taken over 13 contracts previously run by Henderson Travel.
It is in talks with the 120 or so Henderson Travel bus drivers and is offering them employment.
Hamilton-based Henderson Travel runs services in the west of Scotland, and the Lanarkshire area in particular.
Strathclyde Passenger Transport (SPT) said Henderson Travel had 20 contracts with it and had breached the terms of its contract by not providing services on Thursday.
SPT used emergency powers to offer the contract to another operator.
'Left stranded'
Ralph Roberts, managing director of McGill's, said on Thursday evening: "The Henderson buses were not going out tomorrow and people going to work, school and college were going to be left stranded.
"We are going to operate the contracts tomorrow and make sure people get from A to B.
"These contracts will be under emergency powers and will usually be for one to three months. Then they will go back out to re-tender."
The firm will run 41 routes over 13 contracts, he said.
McGill's is run by Rangers directors James and Sandy Easdale.
Sandy Easdale said his team had been able to "move very fast" to save jobs.
He added: "This is part of McGill's continued growth strategy."
Henderson Travel was understood to have ceased trading with administrators to be appointed.
Public inquiry
The company runs SPT's school contracts in South Lanarkshire and other services in areas including Hamilton, Glasgow and East Kilbride.
SPT said they had not been formally contacted by Henderson Travel.
An SPT spokeswoman said: "They are in breach of contract with us. Under emergency powers we have offered the contract out to another operator.
"We are reviewing it on a day-to-day basis."
The Traffic Commissioner for Scotland was also due to rule next month on an investigation into Henderson Travel.
A spokesman for Traffic Commissioner Joan Aitken said the case concerning Henderson Travel was due to be heard at a public inquiry in Edinburgh on 17 November.
At this hearing the commissioner will consider the findings of an investigation conducted by the Driver and Vehicle Standards Agency.
The spokesman said that Henderson Travel was licensed to operate up to 40 vehicles from its base in Hamilton.