Salesman George Anderson guilty of rape and abusing girls in Renfrewshire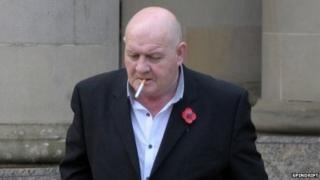 A fruit and vegetable salesman from Renfrewshire has been convicted of raping a 14-year-old girl and abusing five others over almost two decades.
George Anderson, 63, from Johnstone, committed the offences between May 1973 and August 1992 at various addresses in his home town and Howwood.
He raped one victim and sexually abused another with intent to rape. Others were subjected to unwanted advances.
Sentence on Anderson was deferred and he was remanded in custody.
During his trial at the High Court in Glasgow, Anderson claimed all the woman who had brought allegations against him were lying.
The court heard that Anderson was finally brought to justice after his rape victim and her father confronted him at home.
Letter of apology
She accused him of raping her and was told by Anderson: "I've been expecting this."
Despite saying this to his victim, Anderson denied raping the girl while he was giving evidence.
He claimed she was a willing partner and had consented to sex.
Advocate depute Jim Keegan QC, prosecuting, said: "Are you so irresistible that a young girl would willingly engage in sexual intercourse with you?" and Anderson replied: "Yes."
The court also heard that Anderson wrote a letter of apology to a girl he abused in 1973 when she was aged 12, saying: "I am so sorry for my behaviour all those years ago. I just hope you can find ways to forgive me."
He admitted sending the letter but claimed it had nothing to do with sexually abusing the girl.
Another victim described Anderson as a "sleazy, dirty old man" and said he had told her: "I'm going to have you".