Glasgow City Council appoints Annemarie O'Donnell as new chief executive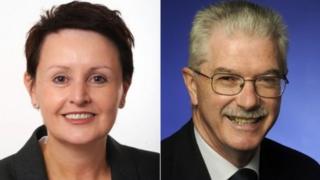 Scotland's largest council has appointed a new chief executive to take over from George Black who retires in December after 11 years in the job.
Annemarie O'Donnell, 49, who has been Glasgow City Council's head of corporate services since 2011, will begin taking up the role immediately.
She was chosen by a panel of senior officers and councillors on Friday.
The qualified solicitor said she was "humbled" to be taking up the post, which has a salary of about £170,000.
"This is a really exciting time for Glasgow," she said.
'Absolutely dedicated'
"There is no doubt the next few years will be challenging for everyone in local government but I believe we have the energy, the ideas and, crucially, the best people to meet those challenges."
In a message to council staff, Mr Black said: "Annemarie and I have worked together for many years and I know that she is absolutely dedicated to the council and the city.
"I often say we have the best people in local government and Annemarie is undoubtedly the best person to lead our team."
Council leader Gordon Matheson said: "The quality of candidates was exceptionally high but Annemarie brings a wealth of experience, passion and vision to the role and was the unanimous choice of the interview panel."
He added: "I also want to take this opportunity to thank George Black for his exceptional work on behalf of the city and wish him every happiness and success in the future."