Prisoner denies strangling Barlinnie cellmate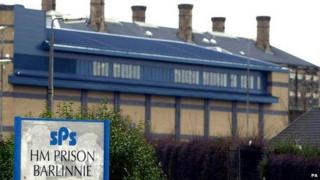 A prisoner has gone on trial accused of murdering his cellmate in Glasgow's Barlinnie jail.
John Clark, 22, is accused of murdering Colin Penrose, also 22, by binding his hands with rope, placing a ligature round his neck and strangling him.
The High Court in Glasgow heard that Mr Clark allegedly told a warder: "I strangled him because he was a beast."
He denies murdering Mr Penrose between 19 and 20 March 2014. The trial before judge Michael O'Grady QC continues.
Ashley Richardson, a warder at Barlinnie Prison, told the court that she received a call at 02:00 on 20 March telling her to go to a cell in E hall.
'Sexual offences'
She told prosecutor Bill McVicar: "A prisoner was lying on the cell floor and another prisoner was sitting, as I recall, at the back of the cell."
Ms Richardson said that Mr Clark came out of the cell and added that another officer, Alan Kilpatrick, asked him to repeat what he had just told him.
Ms Richardson said: "Clark said 'I strangled him because he was a beast.'"
Mr McVicar asked her what she meant by "beast", and she replied: "Someone who has committed sexual offences."
She went on: "I asked him how long ago this had happened and he said about half an hour again.
"I also asked him how he knew his cell mate was a beast and he said his paperwork had been in the cell. He also said his cell mate had shown him the paperwork and then said he had seen it in the cell."
Same cell
The court heard that Mr Clark was taken to another cell, where he asked if Mr Penrose was dead.
The two men had shared a cell for two days and Ms Richardson said it was unusual for sex offenders to be put in the same cell as other offenders.
Under cross-examination by defence QC Ian Duguid, Ms Richardson was asked if Mr Clark might have said: "He's strangled." and she replied: "No, that's not what I heard."
Another prison officer, Gerard Gallagher, said in evidence that he heard Mr Clark say the word "murder" as he left the cell.
A third prison officer, Patrick Neil, told how he and a colleague performed CPR on Mr Penrose until paramedics arrived.
He said when he got to the cell, Mr Penrose was lying on the floor and Mr Clark was sitting watching television.
Referring to Mr Penrose, he added: "I thought he was in the recovery position, initially, then I noticed his hands were bound. Clasped together and bound at the wrists. I also noticed he had a ligature round his neck."