Isabelle Sanders murder: Accused 'confessed to friend'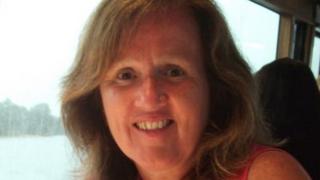 A murder accused confessed to a friend that he had killed a woman and stabbed an elderly man, a court has heard.
Ross Arthurs said Paul McManus told him he "couldn't stop" after attacking Isabelle Sanders, 51, in her home in Crookston, Glasgow.
Mr Arthurs said: "He said he stabbed her repeatedly on the head and shoulders. It was horrible."
Paul McManus denies murdering Ms Sanders and attempting to murder her partner Norman Busby on 9 April.
The High Court in Glasgow heard Mr Arthurs met his former friend at a bus stop hours after Ms Sanders was killed.
He said he asked the accused if he had heard about the dead woman and Mr McManus replied: "Yes Ross, I killed that woman."
Mr Arthurs added: "He said there was an old man who tried to stop him leaving the premises.
"He said he had stabbed the old man on the neck and then escaped.
"He tried to go in their car, but he never had car keys so he couldn't get away with it."
'Covered in blood'
Mr Arthurs said Paul McManus had earlier turned up at his home and told him "I'm going to be on Crimewatch."
The court also heard a paramedic tell how she saw seven or eight stab wounds on Ms Sanders.
Karen Reid said the victim was lying in a corner of her living room covered in blood.
Her partner Mr Busby, 86, has said an intruder forced himself inside before stabbing him and his partner.
Miss Reid told advocate depute Bruce Erroch, prosecuting, that she and a colleague tried in vain to try to save Ms Sanders.
"There were no signs of life, she said. "I immediately started CPR and my colleague started chest compressions.
"We were trying to clear her airwaves, but it was backfilling with blood. This meant there was probably a significant amount of blood in her lungs.
"We continued to try to clear her airwaves. I swept away blood from her chest. I counted the stab wounds across her chest. I think it was six or seven in her chest and one in her neck."
Badly injured
Ms Sanders' partner Mr Busby had been stabbed three times in the chest. He was sitting in a chair nearby badly injured.
The paramedic said: "Norman was still in the room which could only have been horrendous for him."
She added: "After 10 minutes we decided that her injuries were unsurvivable and pronounced her dead at the scene."
The court heard that Mr Busby raised the alarm at 01:49 to alert emergency services. His wife was pronounced dead at 02:02.
Another witness told the trial that she heard a voice outside the flat she was staying in say: "Let me in, before the police come, I've got three grand in my hand."
She said in a police statement that it was the voice of Mr McManus, who she knew well. She said he was talking to a downstairs neighbour.
Mr Busby, a retired policeman, has already said in evidence that a man knocked on the front door at about 01:50.
When Mr Busby opened the door to see who it was, the intruder forced himself inside, before stabbing him and then Ms Sanders.
The jury was played a tape of a call made by Mr Busby to an alarm company in which he said: "Someone's broken into my house and stabbed my partner and stabbed me. I need help immediately."
The trial before judge Lord Armstrong continues.