Scottish flights returning to normal after computer glitch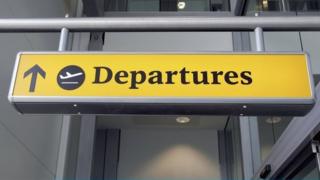 Flights to and from Scottish airports are returning to normal after earlier being hit by a computer failure at the Swanwick air traffic control centre.
Flights from Edinburgh, Glasgow and Aberdeen airports were affected by the glitch.
UK air traffic controllers Nats confirmed its system has been restored and operations are returning to normal.
It had earlier discovered a technical problem at the control centre in Hampshire.
Edinburgh Airport said shortly after 16:30 that its terminal was operating normally again and there were no queues at the check-in or ticket desks.
It said it was waiting to hear if BA would cancel flights to and from the London airports as a result of knock-on disruption.
'Knock-on delays'
Flights from Glasgow and Aberdeen airports had also been affected by the restrictions on London airspace that were put in place when the computer failure was discovered.
In a tweet sent shortly after 16:00, Aberdeen Airport said: "We are told that the issue has now been RESOLVED. Could be knock-on delays as normality is restored but system returning to normal."
Glasgow Airport tweeted: "There may be some delays due to issues with air traffic control which are being resolved."
Passengers have been advised to check with their airline before travelling to an airport on Friday evening.