Bin lorry deaths: Three family members killed in Glasgow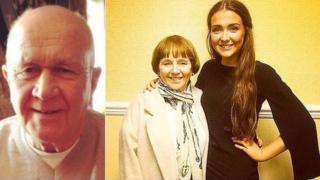 Three of the six victims of the Glasgow bin lorry crash were members of the same family.
Jack Sweeney, 68, his wife Lorraine, 69, and their 18-year-old granddaughter Erin McQuade, from Dumbarton, were among the dead.
Erin was a student at the University of Glasgow and worked for Cameron House Hotel Resort, near Loch Lomond.
Mr Sweeney previously lived in Ontario, in Canada, where he was president of Bramalea Celtic supporters club.
A statement posted on the Bramalea Celtic supporters club Facebook page said: "It is with great shock and sadness we share with you our friend and past president Jack Sweeney, his wife Lorraine and granddaughter Erin were victims of today's tragedy in Glasgow.
Minute silence
"Our thoughts and prayers go to the family and friends of the Sweeney family."
Celtic FC said it would hold a minute's silence in memory of the dead before Saturday's home game against Ross County.
Mr Sweeney's granddaughter Erin was a student at the University of Glasgow.
Professor Anton Muscatelli, principal and vice-chancellor of the university, said, "The university is deeply saddened to hear that one of our students has been tragically killed in this terrible incident. Our thoughts and prayers are with Erin McQuade's family at this dreadfully sad time."
She also worked at Cameron House, which said in a statement: "Cameron House Hotel and Resort are saddened to hear we have lost one of our brightest and dedicated members of housekeeping staff, Erin McQuade.
"We want to offer our deepest condolences and sympathies to the family of Erin and to all those who have been affected by the tragic events at George Square yesterday."
Police Scotland said there appeared to be nothing "sinister" about the crash which happened at 14:30 on Monday.
It is known that the lorry struck a pedestrian outside the Gallery of Modern Art (Goma), then mounted the pavement and travelled hundreds of metres, hitting several others.
The lorry, operated by the city council, flattened street signs as it travelled along Queen Street and the side of George Square.
It finally crashed into the Millennium Hotel, beside the entrance to Queen Street station in George Square.
Eyewitnesses said the lorry driver had been "slumped over his wheel".
Glasgow City Council confirmed that three employees were in the lorry before the crash.
Ten other people were injured in the incident. Four have since been discharged, while six others remain in hospital. Two casualties are in an intensive therapy unit.
The bodies of the victims were removed from the scene overnight in a fleet of private ambulances.
An investigation is continuing to establish the exact circumstances surrounding the crash. Police said they hoped to re-open George Square later on Tuesday.