Crosshouse Hospital action over blood spatter on equipment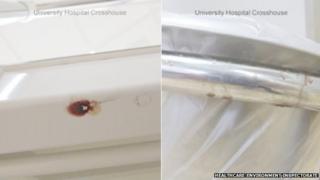 Inspectors have found widespread blood contamination of patient equipment at Crosshouse Hospital in Kilmarnock.
On 28 October last year, inspectors saw blood spatter on nearly all maternity unit trolley beds and throughout the accident and emergency 'stitch' room.
They were so concerned they immediately alerted management to the situation.
Despite assurances, contamination was found on all trolley beds the next day, but major improvements were noted during a follow-up visit on 6 November.
'Significant improvement'
The Healthcare Environment Inspectorate (HEI) chief inspector, Susan Brimelow, said: "During our initial unannounced inspection we expressed concern to senior management regarding the standard of cleanliness of patient equipment in the accident and emergency department.
"As a result of our follow-up inspection, we saw a significant improvement, but will follow up on progress at future inspections.
"Staff across the hospital also need to be clear on the correct product and dilution ratios for the decontamination of blood on patient equipment."
Ms Brimelow added: "We found evidence that NHS Ayrshire and Arran is committed to improving the management of peripheral vascular catheters to help reduce the rate of Staphylococcus aureus bacteraemias, and the infection prevention and control team is carrying out quality assurance to validate self-audits completed at ward level."
A spokeswoman for NHS Ayrshire and Arran said: "The inspection team found that NHS Ayrshire and Arran was complying with the majority of standards to protect patients, staff and visitors from the risk of acquiring an infection.
"In response to the inspection we took immediate steps to address the areas which were identified as requiring improvement.
"We take prevention and control of infection extremely seriously and we have increased our focus on our own programme of unannounced inspections and audits to reinforce those provided by the Healthcare Environment Inspectorate."