Workers face redundancy at clothing retailer USC in Dundonald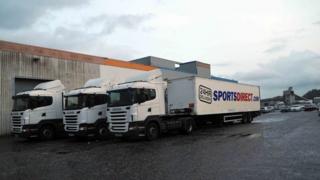 Around 150 warehouse workers at the USC distribution depot at Dundonald in South Ayrshire have been threatened with redundancy.
It is understood that preparations are being made by the parent company, Sports Direct, to appoint receivers.
The fashion chain is on the brink of collapse after multi-million pound losses.
A spokesman for Sports Direct, the UK's biggest sporting retailer, declined to comment.
Hundreds more shop jobs are at risk, but a reduced number of stores could be maintained under reported plans
Sports Direct, which has over 430 UK sports stores and another 270 in Europe, has owned USC since 2011.
'Shambolic situation'
Speaking to BBC Radio Scotland, local MSP Adam Ingram described the situation as "shambolic" and "no way to treat a loyal workforce".
Raising the issue at first minister's questions, Mr Ingram said he understood many of the workers were employed on zero hours contracts.
First Minister Nicola Sturgeon said: "I was extremely concerned when I became aware of developments that took place yesterday at USC Clothing in Dundonald.
"My concern, as is the concern of Adam Ingram, is for the shock impact this will have on the employees affected, their families and the impact on the surrounding area.
"I would expect there to be a consultation period with employees, to provide an opportunity for all avenues to be explored."
Ms Sturgeon said the Scottish government had offered support to the company through the Partnership Action for Continuing Employment (PACE) initiative.
The first minister said: "I hope this reassures the chamber that this government will do everything we can to support all of these employees affected by events at USC and to make clear our expectations of employee relations and good practice."