Armed robber escapes with cash from bank in Lesmahagow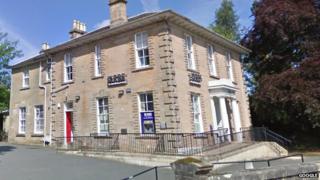 An armed robber fled with a four-figure sum after threatening three female members of staff at a bank in South Lanarkshire.
Police said the man produced a bladed weapon and demanded money at the Royal Bank of Scotland branch in Lesmahagow at 11:55.
He escaped across Abbeygreen Park and on to a small bridge.
The suspect was described as white, 5ft 10in to 6ft tall, slim build and in his early 20s.
He was wearing a grey tracksuit with a black scarf covering his lower face.
He had a black rucksack on his back.
Det Con Christopher Norton, from Wishaw CID, said: "This was a very traumatic experience for the women working in the bank and thankfully one that did not physically harm them.
"I would like to speak to anyone who may have seen the suspect hanging around outside the bank prior to the robbery taking place or anyone who recognises his description or saw him running off afterwards.
"I'd also like to speak to anyone who is presented with banknotes that are red dye-stained as the packs of stolen notes would be covered in red dye when burst open."