Andrew McBride jailed for online sexual blackmail campaign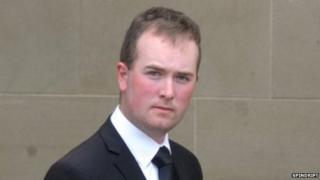 A man who subjected dozens of young people to online sexual blackmail has been jailed for 53 months.
Andrew McBride, 21, from Prestwick, befriended 15 males and 27 females aged between 13 and 20 on Facebook and Skype, over a five-year period.
He forced many of them into sending indecent images or performing sex acts.
At the High Court in Glasgow, McBride admitted 38 charges of extortion and charges of fraud and possessing and distributing indecent photographs.
Jailing him, judge Lord Turnbull told social sciences student McBride that his behaviour was "manipulative and cruel" and added: "Your victims were humiliated to provide you with sexual images of themselves for your sexual gratification."
'Little remorse'
He ordered McBride to be monitored in the community for three years after his release from prison and placed him on the sex offenders' register.
Lord Turnbull told McBride: "You have demonstrated little insight or remorse."
The judge said that McBride had even pretended he was suffering from a psychiatric illness and claimed he could not remember anything about the crime because of alcohol and drugs he had taken.
These claims were dismissed as "preposterous" by the judge.
Lord Turnbull added: "Many of your victims were deeply upset, some very distressed to the extent they contemplated taking their own lives. Despite knowing this, you continued your behaviour."
The judge described McBride as "an intelligent young man from a stable family background" and said this case highlighted "the risk of sexual exploitation of teenage children".
The court heard that between the ages of 15 and 20, McBride used online aliases of David Paterson, Lindsey Smith, Elizabeth McCormick and Jamie Harvey to target his victims.
He induced teenagers to send him images of themselves in their underwear, naked or engaging in sexual activity.
In the majority of incidents, he threatened his victims that he would upload the images to Facebook if they did not send him more photos of a similar nature or perform sex acts on a webcam for him.
Rape threat
The court heard that McBride accepted one 14-year-old girl as a friend on Facebook and later threatened to find her and rape her if she did not send him naked pictures.
McBride also pestered a 13-year-old girl for naked photographs, one of which he later posted on Facebook alongside her name.
He later told the girl he wanted to meet up in a hotel for sex and would delete the photographs he had of her if she agreed.
The girl told police that she felt like taking her own life.
One teenage boy was aged between 15 and 17 when he was targeted by McBride.
The boy told police he felt "utterly helpless and powerless" and had been coerced into performing on webcam around 50 times.
McBride's offences came to light after one of his victims told her mother, who then contacted the police.
Printouts of Facebook conversations and indecent images, which had been used by "David Paterson" to threaten the girl, were seized by police.
His laptop was taken from his home in Prestwick and further conversations were discovered between the accused and his victims.