West Dunbartonshire public 'opposes' cold school dinners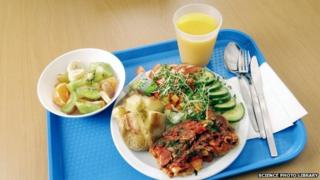 A suggestion that a council could start serving cold school dinners to save cash has been given a chilly reception.
Officials at West Dunbartonshire Council suggested stopping hot meals on Fridays to help save £258,000 annually.
But 74% of the 3,000 people who took part in the council's budget consultation disagreed with this idea.
Overall 16 of the council's 28 proposed budget savings received public backing. Councillors will decide on their budget options early next month.
The council said the consultation was the biggest in its history with many people taking part.
The proposals that won public backing included:
changes to school timetables which could mean senior pupils studying different subjects on different sites;
reviewing the library service;
cutting grants to voluntary organisations.
A suggestion that primary school hours could be cut was one of the options rejected by the public.
Budget gap
The council said the proposals were developed to address an estimated £17m budget gap over the next three years as a result of funding cuts and additional financial pressures.
The council opposes these cuts and is calling on them to be reversed.
In the meantime the authority must prepare to balance its budget for the coming years.
To do this council officers have identified nearly £9m of efficiencies that can be undertaken immediately, and a range of budget saving proposals of around £8m for councillors to consider when setting the budget in February.
Once the consultation closes, the feedback will be presented as a report to councillors for them to consider.
Councillors at the Labour-run authority will then decide which measures should be implemented at the council's budget meeting on 4 February 2015.
The council's chief executive, Joyce White, said: "I'm pleased so many people have taken part in this consultation as it is so important we capture the views of as many people as possible.
"The views of our residents will now be passed to elected members for them to consider as part of the budget setting process."