Kirsteen McCue is first woman to address Burns club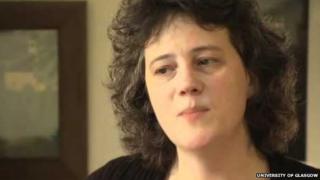 An academic from Glasgow University will make history as the first woman at the Bachelors' Club Burns Supper.
Dr Kirsteen McCue will deliver the Toast to the Immortal memory in the club which was set up in Tarbolton in Ayrshire in 1780.
As the name suggests, the Bachelors' club was set up for use by single men.
Robert Burns took country dancing lessons there when he was about 21, formed a debating club and may have been invested as a freemason.
The club closed after just eight years and reopened in the 1950s - largely to save the building which had, by then, been taken over by the National Trust for Scotland.
In 1970, it began hosting a Burns Supper - for men only.
Dr Kirsteen McCue is a leading authority on Burns - and the daughter of the late Bill McCue, an acclaimed singer of his works.
She said she was both thrilled and daunted to be the first woman to be invited.