Archbishop Philip Tartaglia 'markedly improved' after heart attack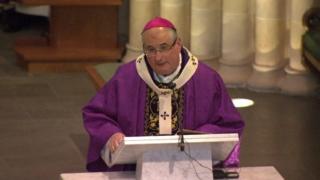 The Roman Catholic church said that the condition of the Archbishop of Glasgow had "markedly improved" following his heart attack.
Archbishop Philip Tartaglia, who is 64, was admitted to hospital in Salamanca in Spain on Thursday.
The Scottish Bishops have been on an in-service week at the Scots College in the city.
A spokesman said the archbishop was preparing to leave hospital and return to the Scots College.
He said: "It is hoped that he will be able to return to Scotland next week.
"He remains in good spirits and is now supported by his brother Canon Gerard Tartaglia who has travelled from Scotland to be with him.
"The Bishops are delighted at this good news"
Archbishop Tartaglia is President of the Bishops' Conference of Scotland.
The Moderator of the General Assembly of the Church of Scotland wished the archbishop a speedy return to health.
The Right Reverend John Chalmers said: "I am glad to hear that Philip is making good progress and I hope he will be well enough to return home to Glasgow soon.
"I can assure him and the whole of the Catholic community in Scotland that he and they will be remembered in our prayers."