Jennifer Kennedy gives evidence at inquiry into death of her child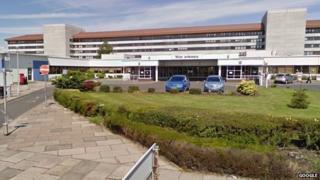 A mother has told a fatal accident inquiry how she felt ignored by medical staff as she begged them to deliver her distressed baby who later died.
Jennifer Kennedy said her son Elijah was a "fighter" but she was later told "his birth was his death".
Elijah was born at Crosshouse Hospital in December 2010 but died six months later following failures already accepted by NHS Ayrshire and Arran.
The inquiry into his death is being held at Kilmarnock Sheriff Court.
The inquiry heard how Ms Kennedy was put on an drip by a midwife to bring on the birth but her baby showed signs of distress.
'Brushed off'
Ms Kennedy, 46, said she expected the child to have been born by the time he was in distress but was told she would be monitored.
She told the inquiry: "I was basically flung to the side. I kept saying, 'You'll need to get the baby out'.
She said a doctor examined her and said her waters had not broken but she thought this procedure actually caused it to happen.
"I kept telling everybody all the way through the day that I was supposed to be taken for a section at midday but I just got brushed off," she said.
Depute fiscal Jacqueline Spiers, for the Crown, asked Ms Kennedy if she felt she was in labour.
She replied: "No. I think we all knew nothing was happening. It was a horrible feeling. You feel things happening inside you."
Ms Kennedy said that a female doctor came in with two trainees and told her: "I'm going to finish my ward round and if you haven't given birth by then we'll give you a section."
She said that at 9.25pm "everything erupted".
"The next thing I remember is alarms being pushed, the room filling up and a doctor saying, 'What the hell, she's only one centimetre dilated.'
"It was as if I'd left my body. I remember them all going frantic and saying, 'Jennifer, Jennifer, stay with us."
The inquiry heard that Elijah was born by caesarean section and spent his first five weeks in the neonatal unit at Crosshouse before being transferred to Glasgow's Yorkhill children's hospital.
Weeping as she gave evidence, Ms Kennedy said: "That was only because we insisted he went to Yorkhill. They wanted to withdraw care from him and let him die."
Elijah's last days were spent at home in Kilmarnock with Ms Kennedy, her partner Allan Stirling and their children Ethan and Eve.
Ms Kennedy said: "We wanted our baby home but he needed 24-hour care.
"He didn't have a gagging mechanism and could choke at any point. It was constant. He could go blue any time of day and you had to revive him. He was permanently on oxygen.
"We got Ethan and Eve in the bath with him and you could see he was a normal wee baby. He loved it."
She added: "When Elijah was born we fought and fought for him. He wasn't supposed to last the night but he was a fighter and survived for six months.
"He had disabilities but we could overcome them. He was let down. He was a perfect baby before he was born."
The inquiry, which is expected to last several weeks, continues.