Bigger home for Boswell Book Festival in Ayrshire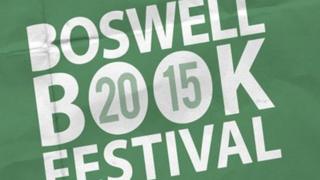 A five-year-old book festival named after Scottish author James Boswell is moving due to "phenomenal growth".
The Boswell Book Festival, dedicated to biography and memoir, was previously held in the grounds of Auchinleck House, Boswell's childhood home.
This year's festival, from 8 to 10 May, will beheld at nearby Dumfries House.
Boswell is best known for his biography of English literary figure Samuel Johnson and is often credited as having invented modern biography.
Festival director Caroline Knox said everyone connected with the event was "very excited" at the move.
'Brilliant ancestor'
"It will allow us to expand our audiences and festival offering further, and strengthen our links with the local community of Auchinleck."
The festival is staged by The Boswell Trust, whose trustees include Margaret Boswell Elliot.
She said: "I am so delighted on behalf of my brilliant ancestor, James Boswell that this festival, which shines the spotlight on him, continues to grow and develop in interesting ways.
"Roll on this year's festival which promises to be a feast of gossip, literature and debate which my ancestor would have relished."
The 2015 festival programme will be announced in March.
For the first time, the festival will also run a family fun day at the Boswell Community Centre in Auchinleck.