Debt firm Capquest to create 100 new jobs in Glasgow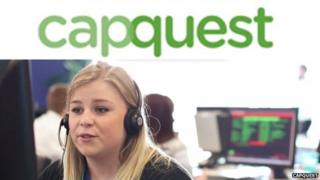 A firm specialising in debt collection and consolidation is to create up to 100 new jobs at its office in Glasgow.
Capquest, which describes itself as a leading "credit solutions provider", will hire the extra staff at its Broomielaw office over the next year.
Once the recruitment is complete, the office will employ more than 200 staff.
Capquest is also recruiting staff at its UK headquarters in Farnborough, Hampshire. The company currently employ 370 people.
The jobs announcement comes after the company was acquired by Arrow Global in November last year.
'Sensitive issues'
Helen Ashton, group chief operating officer at Arrow Global, said the expansion of the Glasgow office signalled the company's "commitment and long-term plans for the site".
"We're looking for friendly and dedicated individuals who will relish the opportunity," she said.
"Our customers often have very sensitive financial issues and need help understanding and addressing them.
"We offer employees real progression opportunities and have had a number of people join our call centre and progress to more specialist and senior roles within the business."