Woman dies and two injured in Cumbernauld house fire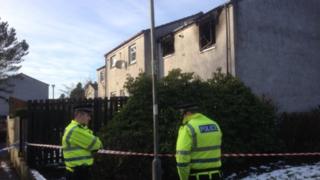 A woman has died and two people have been injured - one of them seriously - in a house fire in Cumbernauld.
Firefighters were called to the house in the North Lanarkshire town's Inchwood Court just after midnight.
They found an 81-year-old woman dead inside. A 51-year-old woman and a 20-year-old man were taken to Monklands Hospital to be treated for burns and the effects of breathing in smoke.
The man is in a serious condition. The cause of the fire is being probed.
A spokeswoman for Police Scotland said officers would carry out a joint investigation with the Scottish Fire and Rescue Service into the cause of the blaze.