'Kids in boot' childminder Hannah Chibanga struck off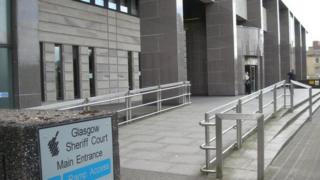 A childminder who allowed her own children to travel in a car boot and lied to inspectors has been struck off the child care register.
Hannah Chibanga was caught breaching the terms of her registration with the Care Inspectorate at her Glasgow home.
Inspectors found nine children in her care - despite claims she had eight. Children were also found to be left unsupervised for lengthy periods.
Mrs Chibanga's registration was cancelled at Glasgow Sheriff Court.
In a written judgment, Sheriff Stuart Reid said: "Unless registration is cancelled, there will be an ongoing risk to the health and well-being of children in her care, given Mrs Chibanga's fundamental lack of appreciation of the significance of the obligations on her."
The court heard that an inspector, Elizabeth Keenan, turned up at Mrs Chibanga's house in Glasgow's Garthamlock area in August 2013.
'Strewn with hazards'
Mrs Chibanga alleged she only had eight children in the house and was expecting another later that day.
The rules state she should have no more than six under 16 year-olds in the house, including her own children.
It later emerged from speaking to the other children that there was another child upstairs.
Mrs Keenan described the house as "untidy, cluttered and strewn with hazards" and said there was a strong smell of urine from the downstairs toilet where there were "dirty hand towels".
Mrs Chibanga also allowed two young children to stay overnight the day before the visit, which goes against the rules.
Concern was also raised at the "suitability" of a wrestling video that was being watched by some of the children.
Mrs Keenan told the court that Mrs Chibanga left the children on their own, and the inspector took the view that the children, on occasions, were in danger.
A one-year-old girl had to be lifted from the stairs by Mrs Keenan as she repeatedly tried to climb the unguarded steps.
Bare mattress
Another inspector, Annemarie McGinn, attended another unannounced inspection days later.
She saw a one-year-old child sleeping upstairs on a bare mattress, and there was still no gate on the stairs.
Mrs McGinn accompanied Mrs Chibanga on a school run and told the court that the childminder had not secured a young child into a seat properly, and had left the children unattended in the car.
There were a total of nine unannounced inspections of the house.
In evidence, Mrs Chibanga claimed she took advice of "a good fellow child minder" to put the straps under the child's arms rather than over when she was securing them in the car.
She admitted that on one occasion her own children did sit in the boot, unrestrained.
But she said it was an attempt to recreate the "fun" that she felt as a child growing up in Zambia when her father would drive her to school in the back of an open Land Rover.