Murder accused Paul Ward 'walked past' victim Jean Campbell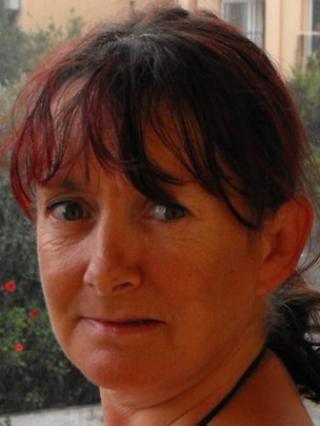 A man accused of murdering a woman in a Glasgow park told a friend he had walked past her on the night she was attacked, a court has heard.
Paul Ward, 21, denies killing Jean Campbell by striking her with a dog lead in Cranhill Park in December 2013.
Thomas Leyden, 23, told the High Court in Glasgow that he spoke to Mr Ward after hearing that Mrs Campbell's body had been found in the park.
Mr Ward has been deemed unfit to stand trial because of mental health issues.
Mr Leyden agreed that he told police: "Paul said 'I seen her last night. I walked past her. I saw a crowd of boys so I walked though the park to avoid them. I walked past Jean at the back of the Beacon Centre'."
He added: "Paul never said he spoke to Jean or anything, just that he walked past her."
He was asked by prosecutor Alex Prentice QC why Ward had kept this information to himself and he replied: "He said he was going to tell the police and I said 'don't be daft. They'll pin it on you'.
"I never thought this would happen. I thought he would be excluded from this and they would find the person who done it."
The court heard that Mr Leyden was originally charged with attempting to pervert the course of justice, but the charge had been dropped.
He admitted to defence QC Donald Findlay that the reason he told Mr Ward not to go to the police was because he did not trust them and that they would make him a prime suspect.
Mr Findlay said: "He did not say he had done any harm to Mrs Campbell?" Mr Leyden replied: "No."
The QC told the court that even pathologists could not pinpoint exactly when Mrs Campbell died.
Mr Leyden earlier told the court he could not remember if Mr Ward came to his home before or after a scream and the sound of a dog barking was heard at about 23:00.
He said that at the time he was suffering from depression and anxiety and was drinking heavily and taking marijuana.
He also said he had seen Mrs Campbell hit her dog on more than one occasion.
Mr Leydon told the court: "She would shout at the dog and hit it. It wasn't really well trained and it would just ignore her. She sometimes kicked the dog and hit it with a dog lead."
He said both he and Paul Ward were angry that she hit the dog.
Mrs Campbell's body was found in Cranhill Park at about 07:40 by her husband John. Her German Shepherd dog Kai was nearby.
The examination of facts hearing is taking place with no jury and Mr Ward is not present.
The evidence is being heard by judge lord Matthews who will make a determination either to acquit Mr Ward or find that he committed the acts.
The judge cannot convict as that can only happen at a criminal trial where the accused is deemed fit to be tried.
The hearing continues.