John Byrne clarifies Glasgow School of Art comments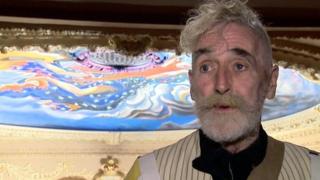 Artist and writer John Byrne has spoken out in a row about Glasgow School of Art.
Byrne said an article in Highland Life last year had been "extensively misquoted".
He was said to have described the art school as "a fun factory" and that much of the work was "garbage".
And he was said to have criticised compensation payments to students who lost work in last May's fire in the art school's Mackintosh building.
Speaking ahead of the revival of his play The Slab Boys at Glasgow's Citizens Theatre, Byrne clarified that he believed the school was producing many fine artists.
He told BBC Scotland's arts correspondent Pauline McLean: "I was supposed to have said that going to art school was like going into a music school with no instruments.
"What I actually said was that people go into a music school, tone deaf, not able to play an instrument or read music. And the music school says, come in, you can play in an orchestra and you'll be paid money."
Byrne said there were plenty of good artists graduating from the art school but that he believes they are being overshadowed by the Turner Prize, and the amount of publicity it generates.
'Worst ever'
In December, Duncan Campbell, who studied at Glasgow School of Art, became the seventh artist with a connection to the art school to win the £25,000 prize.
The connection led one German curator - Hans Ulrich Obrist - to dub it "the Glasgow Miracle" - but Byrne said he was not convinced.
He added: "This year's Turner Prize, everybody said it was the worst ever. Everything was digital. And people who love all kinds of art - traditional, contemporary, modern - all said it was abysmal.
"The Artes Mundi Prize in Wales showed up the Turner Prize. The guy who won it was from Chicago and shared his prize money with all the other shortlisted artists. That's what's missing.
"It's all about me, it's all about the prize, and that's what I was criticising, not just at Glasgow School of Art but in all art schools. That lack of camaraderie, and generosity, that lack of craft.
"The reason a lot of people come to Glasgow is for the Turner Prize and they're duped if they think they can win and become rich and famous overnight. Stuff produced for the most part is vacuous and empty.
"There are lots of great painters who don't get their due, Sigmar Polke, Anselm Kiefer, Gerhard Richter. There are wonderful painters around - such a range. Not everyone knows of them and they don't get the promotion but they're there."