Jean Campbell death: 'Lead marks' on killed dog walker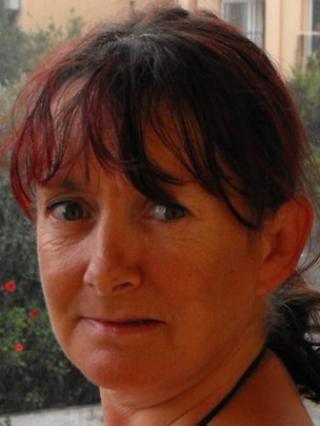 A hearing into the murder of a woman in a Glasgow park has been told that marks found on her body may have been caused by a dog lead.
Forensic scientist Richard Vallance said that a dog lead found near 53-year-old Jean Campbell's body "could have been responsible for the marks".
Paul Ward, 21, denies killing Mrs Campbell by striking her with a dog lead in Cranhill Park in December 2013.
He has been deemed unfit to stand trial because of mental health issues.
Mr Ward is currently detained at the State Hospital at Carstairs.
Park search
Evidence is being heard at an examination of facts at the High Court in Glasgow.
At the end of the hearing, judge Lord Matthews will determine if Mr Ward committed the offence.
The court has heard that Mrs Campbell's body was found before 09:00 on 14 December 2013 by her husband John.
The nightshift worker was worried when he came home to find her and their German Shepherd dog Kai missing. He searched where she normally walked the dog.
During the police investigation into her death, photographs were taken of the injuries suffered by Mrs Campbell.
Pathologist Marjorie Turner previously described some of the marks found on Mrs Campbell's body as highly unusual and Y shaped.
She said she had never come across anything like it before.
Mr Vallance told advocate depute Alex Prentice QC, prosecuting, that he was given a number of photographs of Mrs Campbell's body and also the dog lead which was found near her body.
He was asked what his conclusion was and replied: "The dog lead could have been responsible for the marks or equally any other object of similar dimensions could be responsible."
Mr Vallance was asked by defence QC Donald Findlay what he was looking for when he examined the black coat and the floral pyjamas which Mrs Campbell had been wearing, and said: "Marks."
Mr Findlay then said: "You were not looking for fibres or blood," and he replied: "No."
Mr Vallance also agreed with Mr Findlay that he had found no footwear impressions on Mrs Campbell's clothing.
Det Sgt Kirsty Moore later told the court she arrived at Cranhill Park at 08:08 on 14 December 2013.
She said: "An ambulance was present and various police officers."
Prosecutor Mr Prentice asked her: "Did you make your way to the perimeter of the park," and she replied: "Yes I did. I observed a body lying in the park area covered with a blanket and there were various items round the body."
She said one of the items was a dog lead and another a flip flop.
The hearing before Lord Matthews continues.