Cornwell Badge honour for Scottish scout Alison McCann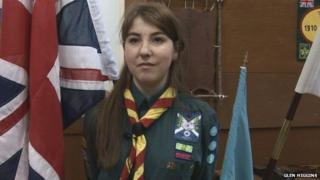 A 14-year-old girl has become the first Scottish scout in 45 years to be given one of the movement's highest awards.
Alison McCann, from Dalmellington in Ayrshire, received the Cornwell Badge.
The badge is given in recognition of courage and endurance under extreme conditions.
The teenager has a severe and long-term physical condition but has excelled as a patrol leader and continues to influence fellow Scouts.
District Commissioner Stuart Dunsmuir said: "What Alison had to go through in the last while is a shining example to everyone.
"It shows courage, determination, and is great encouragement for both adults and young people alike."
The Cornwell Scout Badge is an award for youth members of the Scout Association.
It is awarded in recognition of devotion to duty, together with great courage and endurance.
The badge was created in memory of a boy sailor and scout, Jack Cornwell, who was posthumously awarded the Victoria Cross after he was mortally wounded at the Battle of Jutland in 1916.