Julianne Moore gets chieftain invite for Gourock Highland Games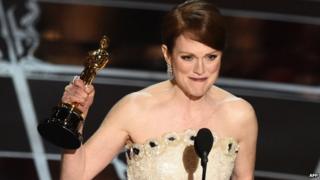 Hollywood actress Julianne Moore has been invited to be chieftain at the Gourock Highland Games later this year.
The invitation came from Christopher McEleny, leader of the SNP group at Inverclyde Council, in recognition of the star's recent Best Actress win at the Oscars.
Moore, 54, paid tribute to her Scottish roots at the Baftas earlier this month.
Her late mother Anne was a social worker from Greenock in Inverclyde.
At the Bafta awards ceremony the actress, who holds dual US and British citizenship, said she owed her success to five Scottish women - including her mother who emigrated to America in 1950.
'Homecoming event'
Councillor McEleny said he hoped the Still Alice star would see the invitation as an opportunity "too good to miss".
He said: "For years people have travelled from Inverclyde to the rest of the world to settle down. It's great to see Julianne Moore - the daughter of someone who hailed from Inverclyde - win the Oscar for Best Actress.
"Many people across the world have ties with Inverclyde and perhaps the Gourock Highland Games could become our own homecoming event.
"I know Ms Moore has already been offered a season ticket to watch Greenock Morton at Cappielow, as well as a guided tour by the Provost, but maybe the prospect of a Highland games here in Inverclyde would be too good to miss."
In addition to her Oscar success, Moore has also won a Bafta and a Golden Globe for her role in Still Alice, which tells the story of Alice Howland, a professor at Columbia University who develops a rare form of Alzheimer's at the age of 50.
The 59th Gourock Highland Games will take place on 10 May.