Armed robber admits to police: 'I'm as guilty as sin'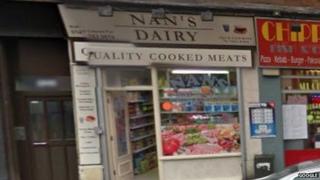 An armed robber from Glasgow who admitted "I'm as guilty as sin" to police has been jailed for four years.
John Sherlock admitted stealing £360 from Nan's Dairy in Glasgow while armed with a knife in December last year.
At the High Court in Glasgow, the 40-year-old also pled guilty to pushing shop manager Denise Murray to the ground and struggling with her.
Sherlock's counsel said he "apologises to the shop workers for the ordeal".
The court heard that the robbery at the shop on Shettleston Road took place at 17:00 on 18 December as staff were about to close for the day.
The incident was witnessed by three police officers, who watched the robbery unfold from the first floor at Shettleston police office - which is across the road from the shop.
The officers gave chase and caught Sherlock a short distance away, when he told them: "I'm guilty as sin."
The £360 in notes was found in his front left trouser pocket.
Sherlock told police he had carried out the robbery to get money for his drug habit.
Solicitor advocate Liam Ewing, defending, said: "He apologises to the shop workers for the ordeal he put them through."