Lego film boy gets Jimmy Kimmel talk show spot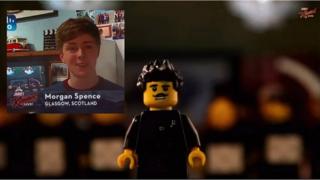 A teenage Lego filmmaker from Scotland has created an animation for top US talk show Jimmy Kimmel Live!
Morgan Spence, from Kilbarchan, already has experience in recreating movie classics in Lego and has been used in a Red Cross disaster campaign.
The 15-year-old put together a scene from The Grand Budapest Hotel for the chat show.
He said a minute of footage takes weeks in Lego brick time and that he wants to take up filmmaking as a career.
He told Kimmel: "I've always had a love of Lego, even since I was three years old, and it's still my hobby now.
"It depends on how complex the film I'm recreating is but usually for say a minute of film it can take a couple of weeks."
And the young Renfrewshire animator revealed that he had even swallowed the odd piece of Lego in his time.