Tennis balls filled with poison found in Glasgow park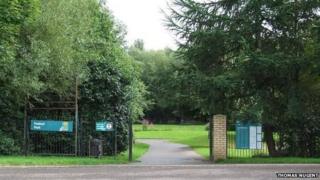 The Scottish SPCA has issued a warning after five tennis balls filled with poison were found in Festival Park in Glasgow.
The balls were discovered by a member of the public, who placed them inside a bin in the park grounds.
But the charity said that someone had since removed the balls from the bin, and their whereabouts were currently unknown.
Police have been informed about the situation.
'Obvious danger'
A spokesman for the SSPCA said someone had cut holes in the tennis balls and filled them with shredded paper and blue pellets - thought to be rat poison.
In a statement the charity said: "It's possible the balls were left to target rats but there is an obvious danger to dogs and children and this was a very reckless act.
"We are looking for information as to why the balls were in the park and who may be responsible."
The SSPCA is particularly keen to identify the person who took the tennis balls from the bin, and have asked anyone with information to get in contact.