Banned lawyer John O'Donnell impersonated colleague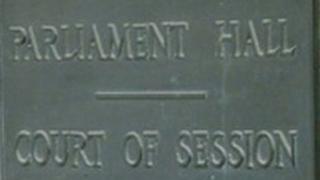 A lawyer who pretended to be his colleague in order to breach an order banning him from working as a solicitor has been jailed for three months.
John O'Donnell had been banned for five years after being found guilty of professional misconduct.
But rather than carry out minor work that had been approved by the Law Society, he continued to work as a solicitor.
He pretended to be another lawyer called Colin Davidson.
The Court of Session in Edinburgh had granted an interdict against O'Donnell in 2009 following an earlier ruling by the Scottish Solicitors Disciplinary Tribunal, which had found him guilty for the third time in his career of professional misconduct.
No option
Following the ruling, O'Donnell started working for a firm on Glasgow's south side which was operated by a solicitor called Colin Davidson.
O'Donnell impersonated Mr Davidson, using his name to sign legal documents and pretending to be him when he met clients.
He also gave an advocate that he had instructed to act in a case the impression that he was allowed to work as a solicitor.
At the Court of Session on Friday, judge Lord Stewart said he had no option but to send O'Donnell to prison.
The judge said: "In order to punish Mr O'Donnell and to deter others, the court must impose a custodial sentence.
"I take on board that there was no criminal motive and that no client suffered any loss. However, in order to maintain public confidence in the legal system, I must send you to jail."
Mental illness
In a written judgement, the judge also wrote that there had been moments of "Feydeau like farce", such as when the real Colin Davidson appeared or when a client, Elizabeth Campbell, heard other people, referring to the pseudo Davidson as John rather than Colin.
The judge wrote: "The explanation given to Mrs Campbell by Mr O'Donnell was that it was a "family thing": he said that some people knew him as John but he was Colin Davidson."
Defence advocate Richard Murphy told Lord Stewart that O'Donnell had suffered in the past from mental illness.
He added: "He never intended to return to practice but he ended up doing more than what he intended to do."
Mr Murphy also told the court that O'Donnell would never return to practising law, and offered to pay a fine as an alternative to a prison sentence.
The court was also told O'Donnell intends to appeal his conviction.
Following the sentencing, Lorna Jack, chief executive of the Law Society of Scotland, said: "People often turn to a solicitor at critical times in their lives so to deceive people who need legal advice is a serious abuse of the trust that clients place in their solicitor and goes against every solicitor's core principles of honesty and integrity.
"It is essential to protect members of the public seeking legal advice and ensure they can continue to put their trust in solicitors. We will always take action against individuals if we have good reason to believe they are misleading people in this way."