'Limbs in the loch' killer loses appeal over alleged data protection breach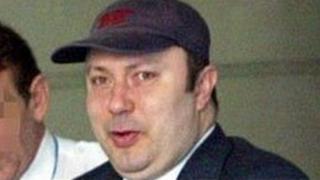 Convicted "limbs in the loch" killer William Beggs has lost a legal battle to have judges rule that Scotland's Information Commissioner broke the law.
The 51-year-old claimed Rosemary Agnew acted illegally over how she handled a Freedom of Information application that he made from prison in 2013.
Judges at the Court of Session have now ruled that Ms Agnew acted correctly.
Beggs was jailed for life in 2001 for killing and dismembering 18-year-old Barry Wallace in Kilmarnock in 1999.
In a written judgement, Lord Carloway, who deliberated with fellow judges Lord Bracadale and Lady Dorrian, stated that: "No breach of natural justice or the principles of fairness occurred."
The murderer has pursued a series of legal actions since he was jailed and previously won a payout because his appeal took too long to be heard.
'No legal error'
In January 2015, Beggs appeared from custody and personally addressed civil appeal judges Lord Carloway, Lady Dorrian and Lord Bracadale with regard to applications he made to the Information Commissioner two years ago.
He alleged that prison staff breached data protection law when handling mail about his legal affairs, and requested to see notes from meetings held by the Scottish Prison Service's Internal Complaints Committee.
But the Freedom of Information Commissioner refused to grant Beggs' request, prompting him to go to the Court of Session.
Beggs claimed that Ms Agnew's decision not to let him see the notes was not "rational".
But the court agreed with the Scottish Information Commissioner's advocate Mr Johnston, who said there had been "no error of law involved in relation to this issue."
During his trial, the court heard how Beggs cut up Mr Wallace's body and dropped the limbs and torso of his victim into Loch Lomond.
Beggs then disposed of Mr Wallace's head by throwing it into the sea off the Ayrshire coast.
He lost a lengthy appeal to overturn his conviction for the murder of Mr Wallace, for which he was ordered to serve a minimum of 20 years for the "appalling offences".
He was previously jailed in 1987 for another murder but his conviction was overturned on appeal.