Scots 'jihadi bride' Aqsa Mahmood faces prosecution on return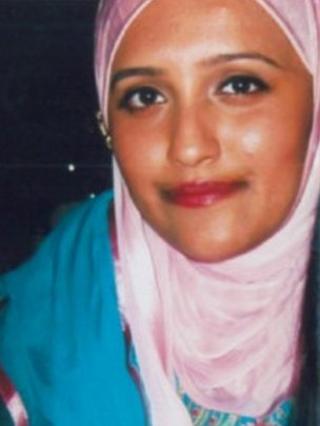 A Scottish woman who travelled to Syria to become a so-called "jihadi bride" will be prosecuted if she ever returns to the UK, MPs have been told.
Mark Rowley, Assistant Commissioner at the Metropolitan Police, said work was "well advanced" in terms of prosecuting Aqsa Mahmood, 20, if she comes back.
His comments came while giving evidence to the Commons Home Affairs Committee.
Ms Mahmood is suspected of helping to recruit three London schoolgirls who travelled to Syria last month.
Her parents, who live in Glasgow and have previously described her actions as a "disgrace", issued a statement through their lawyer Aamer Anwar saying Mr Rowley's comments were "disturbing".
Ms Mahmood travelled to Syria over a year ago where she married an Islamic State fighter.
The 20-year-old is reported to have used Twitter to encourage acts of terrorism and is thought to have been in touch with one of the three east London schoolgirls also now in Syria.
It is feared Shamima Begum, Amira Abase, both 15, and Kadiza Sultana, 16, left for Syria to join Islamic State.
It is thought Ms Mahmood helped to recruit them.
Giving evidence to the Commons Home Affairs Committee, the Met's Assistant Commissioner Mr Rowley said: "The Scottish woman who has been reported overseas, that case is well advanced in the work that is going on in terms of potentially prosecuting her if she ever returns."
The families of the three missing London schoolgirls have criticised the Met for failing to inform them that the girls had known another girl who travelled to Syria.
The head of the Met Police, Sir Bernard Hogan-Howe, told MPs he was sorry, but also defended his force's handling of the situation.
'Deeply ashamed'
A statement issued by solicitor Mr Anwar, who represents Ms Mahmood's family, said they were "full of horror and anger that their daughter may have had a role to play in the recruitment of these young girls".
It went on: "It is extremely disturbing that Assistant Commissioner Mark Rowley should use the Select Committee to publicly announce their work as being 'well advanced' in terms of prosecuting Aqsa Mahmood.
"One would hope that the Crown Prosecution would have concerns on the right to a fair trial and anything being done to jeopardise due process, unless the Met believes that no longer applies in the UK."
Mr Anwar said there were "far more serious" questions in relation to the case of the other three girls.
"Aqsa's family have repeatedly said their daughter was being monitored by the security services and police. If she was responsible for the recruitment and radicalisation of young girls then why did the security services not share that information with the families before it was too late?" he said.
The lawyer also revealed that he had already advised Ms Mahmood's family of the likelihood of prosecution if she were to return to the UK.
He added: "They are deeply ashamed of their daughter and any role she may have played in the recruitment of these young girls, but she is still their daughter and they would much prefer her back in Scotland alive than for her to die in Syria."