Police inquiries over Rangers director 'Mohammed tweet'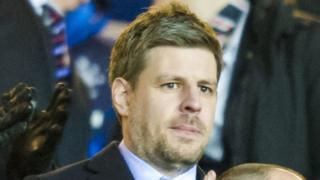 Police are "carrying out inquiries" into a tweet apparently sent by a newly-appointed Rangers director.
A sexually explicit cartoon of the prophet Mohammed was sent from Chris Graham's Twitter account to a radical Islamist preacher in January.
The tweet was sent to Anjem Choudary on the day of the attack on the Charlie Hebdo offices in Paris.
Mr Graham was appointed as a non-executive director of the Ibrox club earlier this week.
A spokesman for Police Scotland said: "We are aware of the media reports in relation to comments made on a social media site. We are now carrying out inquiries into this matter."
Shortly after two gunmen had shot dead 12 people at the offices of the French satirical magazine Charlie Hebdo on 7 January, Mr Choudary sent a message on Twitter which read "freedom of expression does not extend to insulting the prophets of Allah, whatever your views on the events in Paris today!"
Mr Graham apparently replied by sending a cartoon depicting the prophet Mohammed engaged in an explicit homosexual act.
Mr Graham, 38, is well known among football fans for representing the Rangers Supporters Trust and running the Rangers Standard website.
His Twitter account is now restricted from public view.
A spokesman for Rangers said on Wednesday that it was looking into the allegations.